"It is never too late to be what you might have been." ~ George Eliot
"Yvonne, could you draw my daughter petting a bunny in our garden, a purple bunny." Over eighty years ago, six-year-old Yvonne accompanied her grandmother to clean wealthy clients homes. After completing her cleaning duties, she'd pass the time drawing with her left-hand while she waited for her grandmother. Women who owned those homes often paused to admire her talent. Over time, Yvonne spent less time cleaning, to her grandmother irritation, and more time fulfilling requests for unique drawings for the women's children. Several of these wealthy women approached the grandmother, offering to pay Yvonne's way through art school. But the grandmother's pride prevented her from accepting, or even informing her granddaughter of these offers. She believed that becoming an artist was neither an appropriate skill nor job for a young woman in the 1940's. She firmly declined all offers.
That grandmother's prideful refusal affected my life, for Yvonne is my mother.
At age fourteen, instead of training her artistic talents, my mother trained to became a welder for WW2 aircraft. A job she lost to returning untrained soldiers, for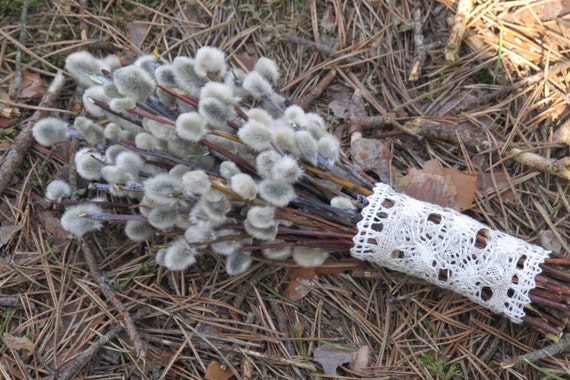 only under extra-ordinary circumstances were women allowed in untraditional fields like welding.
Educational limitations thrust her into what was considered an appropriate labor job for women in 1946 – waitressing.
I was unaware of her missed life paths until I walked passed a florist and saw pussy willow twigs.
I automatically stopped to caress the soft gray buds. When I handed my mother four eight inch twigs as a gift, I mentioned recalling a picture where kitten heads replaced the pussy willow buds. Staring at me in surprise, she replied that she had drawn that exact sketch nearly 40 years ago, right after my brain injury. With my head still swathed in bandages, she'd been inspired to draw it after listening to me giggle while caressing a neighbor's kittens.
In honour of my attachment to that sentimental childhood memory, she drew me another for my 41st birthday.
Perhaps you look at this picture and think –  this art is amateur.
There is a reason for that.
While it is now known that 3-10% of the population is naturally left handed, eighty years ago being a leftie was ridiculed.
My mother's grade one teacher intentionally called my mother to the chalkboard to write, and encouraged ALL the children to mock and laugh if she wrote her answer with her Left Hand. As I am a leftie, I can well imagine her humiliation.
So she focused her efforts on training herself to use her right hand, but the drawing did not flow as easily. She placed her art skills on the back burner. Occasionally she drew whimsical cards for her grandchildren.
In my mother's early sixties, she took art classes in earnest, trying to develop her latent talents, but still using her right hand. Just before Christmas, she slipped on puddles of water in a mall, and broke her right elbow in three places. Three plates and six screws recreated the joint inside her arm. But, surgery did not return her right arm to its previous capabilities. Each morning, she awoke to a claw fist. No matter how diligently she did her weight exercises she never regained strength or ability in her right arm.
A year after the accident, a rehabilitation therapist suggested she try drawing with her left hand. She could barely contain her excitement when she gave me my pussy willow picture drawn 60 years after being forced to give up drawing with her left hand.
It grieves me that my mother had so little time to restore her neglected left handed artistic ability.
Yet, this pussy willow drawing demonstrates that it is never too late to foster a latent or denied talent.
Despite a tragic loss of life opportunities and her harsh life circumstances, my mother's legacy to me is her left-handed drawings.
They are a testimony of her resilience.
And an inspiration to develop late in life talents that her proud daughter plans to follow.